Here at AVC we believe this could be one of the best selling vehicles in 2022!
Ten Second Review
Kia's Sportage asks more searching questions of its family SUV rivals in this more dynamic-looking fifth generation form. There's a more up-market look and feel, more electrified engine technology - more of everything really. Well, except full electric power and real off-road ability anyway.
Background
The Kia's Sportage is one of the most prolifically-selling cars South Korea has ever brought us. Europe likes this model line very much, which is why Europe has been given its own bespoke version of this car in this fifth generation guise. In place of the long wheelbase version sold in other world markets, our continent gets a shorter, sportier-looking version of the MK5 design which apparently has been tuned for our roads as well as for our preference in the size of our Qashqai-class family SUVs.
It's certainly the most daringly-styled Sportage yet, both inside and out, with much borrowed from Kia's all-electric EV6, a similarly sized model which relieves the brand of the need to provide a full-battery version of this crossover. Mind you, it's possible to have just about anything else electrified beneath the bonnet, thanks to engineering shared across the board with this car's competitor and close cousin, the Hyundai Tucson. Let's take a look.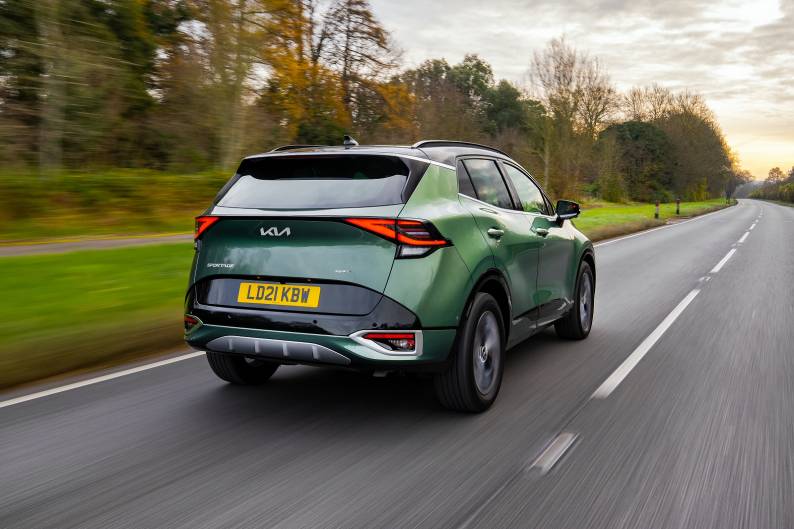 Design and Build
Like the all-electric EV6, this MK5 Sportage has been designed under Kia's 'Opposite United' ethos. Which you could guess from a glance at the visual elements the two models share - the boomerang-style headlights, swollen rear arches, the concave tailgate shaping and the prominent spoiler. Europe gets a short wheelbase version of this model - and won't be offered the longer version of this design available to other world markets, both variants sitting on the same N3 platform that undergirds this car's close cousin, the identically engineered Hyundai Tucson.
Shared parentage with the EV6 is also evident inside, where the dashboard gets a gently curved display incorporating two 12.3-inch digital screens. Other key controls are operated via a row of multimedia haptic buttons, which can change function depending on drive mode selection. Though the European Sportage is 85mm shorter than the long wheelbase global model, it's 30mm longer than the previous generation design and that frees up 10mm more wheelbase length for a couple of adults to sit comfortably in the rear - three at a pinch. The boot's around 10% bigger than before too, Kia claiming 591-litres of stowage space.
Market and Model
Pricing is quite a bit higher than it used to be for a Sportage, sitting in the £27,000 to £44,000 bracket. There are the usual Kia '2', 'GT-Line', '3', '4' and 'GT-Line S' trim levels. The full-Hybrid variants start from around £33,000 - the Plug-in Hybrids from around £38,000.
Across the range, connectivity's taken a step forward - not only with the larger 12.3-inch cabin screens (both for the instrument cluster and the centre stack monitor) but also with telematics. The brand now offers its 'Kia Connect' smartphone app which allows customers to connect remotely with their cars. A new 'User Profile Transfer' feature enables users to back up their in-vehicle Kia Connect preferences via the cloud and transfer settings from one vehicle to the next.
A popular option is likely to be the Harmon Kardon sound system. And this Kia will be fitted with a wide array of Advanced Driver Assistance System technology - what Kia calls 'Drivewise' features. There's a 'Forward-Collision Avoidance assist system with Junction Turning' that should help you avoid collisions at junctions; and 'Highway Driving Assist' helps you maintain a set distance to the car in front and keeps this Kia in the middle of its lane. This Sportage can also offer Blind Spot Assistance and a navigation-based cruise control system that automatically reduces speed for the corners. There's even a Remote Smart Parking Assist system that can park the car for you into tight spaces while you stand outside it controlling things from the key fob: neat.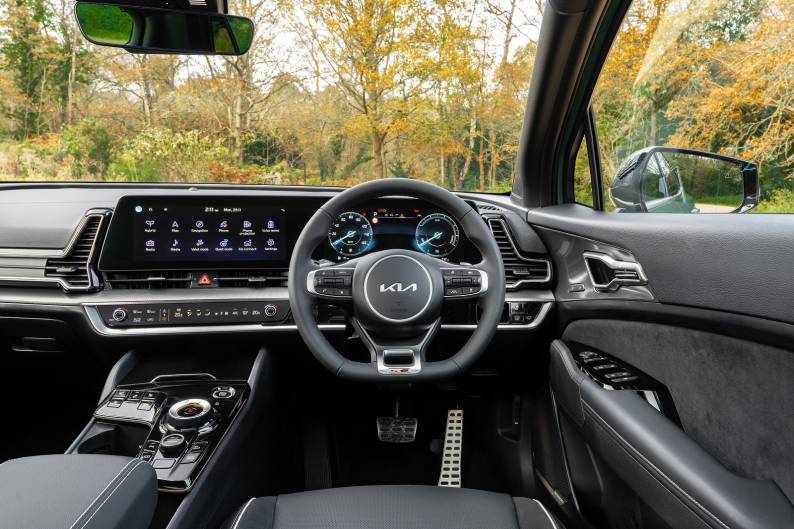 The full-Hybrid HEV petrol model improves that showing to just under 130g/km - and manages around 50mpg. The PHEV plug-in version manages a three-figure fuel reading of around 200mpg (yes, really), along with an enviro-conscious CO2 figure of around 30g/km and an all-electric driving range of around 35 miles. Charging a PHEV Sportage from a 3-pin ICCB supply takes 6 hours and 30 minutes (empty to 95%). Use the kind of 7kW wallbox you'd obviously install at home if you were to choose a Plug-in Hybrid and that time drops to 1 hour and 42 minutes.
As usual with Kia, there's a 7 year or 100,000 mile warranty which, since it can be passed from owner to owner, should help the impressively strong residual values. You might want to note that roadside assistance cover is limited to one year, but you do get a long 12 year bodywork warranty. Maintenance costs can be kept down by opting for Kia's 'Care-3' or 'Care-3 Plus' servicing packages, which offer a fixed-cost and inflation-proof servicing plan for the first three or five years, something which can also be passed on to subsequent owners.
Summary
In theory, a lot of boxes have been ticked here. This fifth generation Sportage has been aligned in size and drive dynamics more closely to the needs of our market. It offers new full-Hybrid and Plug-in Hybrid engine options in a class where rivals typically only provide either one or the other. And the smart cabin finally puts paid to any memory of Kia's budget brand roots.
But the South Korean maker's now not afraid to charge decent money for this car. And it must face a set of very determined rivals, not least Nissan's Qashqai, the segment sales leader. This Sportage though, having long been edging closer to its Japanese arch-rival, now feels ready to bother it more acutely in this fifth generation form. If you're shopping in this segment, it's a car you have to try.