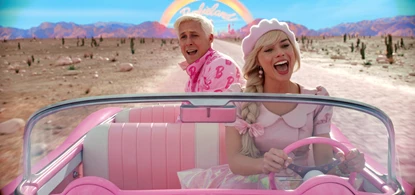 When you think of Barbie, the first image that pops into your mind might be of a bright-pink fashion icon, but did you know that she has always had a cool set of wheels parked in her garage?
In the recently released Barbie movie, we see our beloved character grappling with the idea of no longer being able to wear stiletto heels due to flat feet. While Barbie's beginnings were rooted in being a plastic fashion model, her character has evolved over time, revealing her passion for cars and the open road.
Sure, the pink 1950s Corvette in the movie trailer is iconic, but Barbie's automotive adventures span far beyond that. She's owned an array of cars that would make any auto enthusiast jealous—a rugged Jeep for outdoor adventures, a chic EV for modern times, and even a powerful Porsche 911. Not to mention, she once cruised around in a stunning 530-hp pink Maserati, and there was even a full-sized white convertible with wing doors based on a Fiat, reminiscent of Magnum P.I.'s Ferrari.
But let's rewind the clock to Barbie's earlier days, where she wasn't exclusively a Corvette driver. In fact, during her teenage years in Wisconsin, she had a fondness for small European sports cars. Her first ride was a British classic, the Austin-Healey 3000 Mk II, a charming convertible crafted by Canada's oldest toymaker, the Irwin Corporation. The Barbie line of cars then expanded to include other European marques like Mercedes-Benz, Ferrari, and Porsche, each exuding the sophistication Barbie herself embodies.
In the 1970s, Barbie embraced the spirit of adventure by delving into custom-van culture with her friends. She owned the Country Camper, complete with a countrified theme song, and the Star Traveler, a six-wheeled RV with all the comforts of home on the road. Barbie showed us that life is about exploring and setting up camp wherever your heart desires.
Throughout the years, Barbie's car collection even had a brush with the future. Her 2002 Volkswagen Microbus bore a striking resemblance to the current I.D. Buzz model, and her cherry-red Ford Mustang GT from 2003 resembled the retro-styled fifth-generation Mustang that debuted two years later.
Barbie's career achievements have been equally diverse, from being a veterinarian and astronaut to a travel agent and even a UN Ambassador. But her talents didn't end there; she also tried her hand at stock-car racing, as evidenced by the NASCAR Barbie with her firesuit and racing helmet. Talk about breaking boundaries!
However, perhaps one of the most iconic sets of wheels associated with Barbie has been her Corvettes. From the Star 'Vette, a vibrant 1970s Stingray convertible, to the unabashedly bright pink C4 Barbie Corvette with T-tops, Barbie's love for the Corvette has been unwavering. It's no wonder that the movie features her driving a slightly scaled-down 1956 Corvette with an EV powertrain—a perfect blend of the classic and the contemporary.
Barbie has truly shown us that she's not just about style; she's an adventurous, daring, and automotive-savvy individual. From European sports cars to rugged off-roaders and sleek Corvettes, Barbie's journey through the decades has been nothing short of evolutionary, reflecting the ever-changing world around her.
So, next time you see Barbie on the big screen or play with her timeless toys, remember that behind that iconic fashion is a trailblazing car enthusiast, who isn't afraid to hit the road and make history in her own unique way.
If you would like your own set of wheels whether they are hot pink or not is up to you, why not get in touch to see what amazing lease deals we have on offer.