Our Audi A4 Leasing Options Explored
Suppose you're seeking an executive car that is sophisticated, economical, and packed with advanced features. In that case, the Audi A4 is an excellent choice. Leasing this car offers you more flexibility and affordability than buying it outright.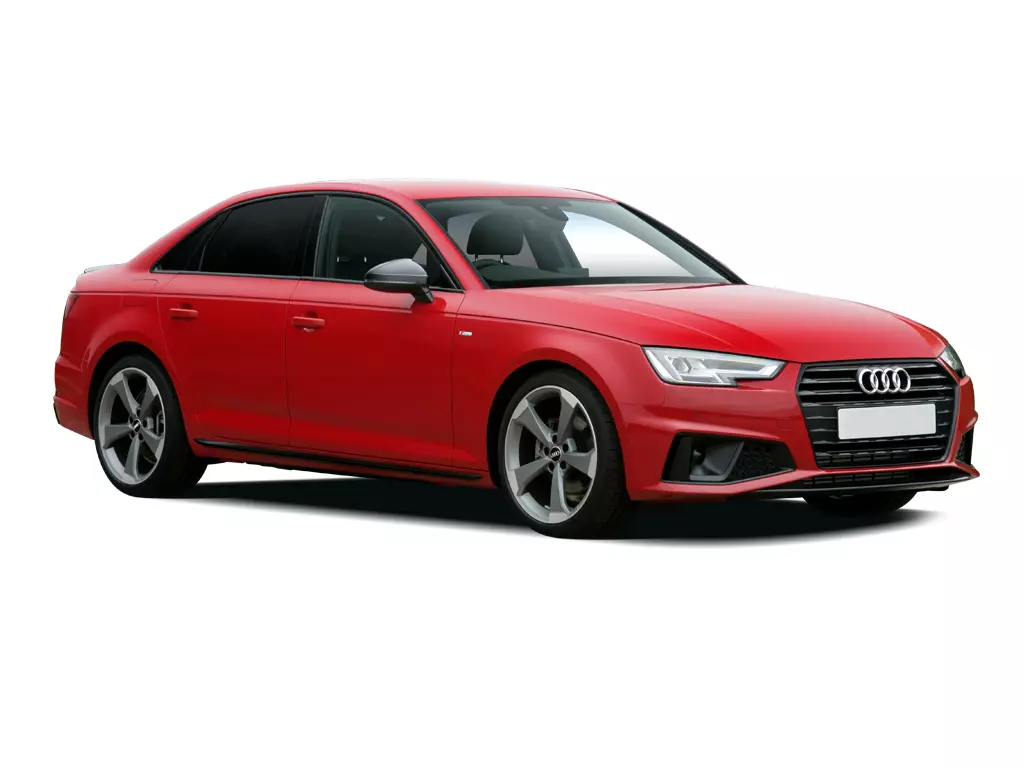 Audi A4 Models Key Features
Please remember that the table below only partially lists their distinguishing features. However, it can help you understand the key differences between the models. Our friendly, non-pushy leasing team is available to provide further assistance if required.
| Model | Engine | Transmission | Fuel Economy | On the Road Price | Key Features |
| --- | --- | --- | --- | --- | --- |
| Sport | 2.0 TFSI 150 HP | 7-speed S tronic | 42.8 MPG | £30,965 | 17-inch alloy wheels, LED headlights, MMI infotainment system with Apple CarPlay and Android Auto, reverse parking aid |
| S Line | 2.0 TFSI 190 HP | 7-speed S tronic | 40.9 MPG | £34,560 | Same as Sport, plus: 18-inch alloy wheels, sporty exterior design, sports suspension, leather/Alcantara upholstery, and ambient interior lighting |
| Black Edition | 2.0 TFSI 190 HP | 7-speed S tronic | 40.4 MPG | £36,735 | Same as S Line, plus: 19-inch black alloy wheels, black styling pack, privacy glass, and Bang & Olufsen 3D sound system |
| Vorsprung | 3.0 TFSI 245 HP | 7-speed S tronic | 39.2 MPG | £49,985 | Same as Black Edition, plus: adaptive sport suspension, Matrix LED headlights, panoramic glass sunroof, and Virtual Cockpit Plus |
Benefits of Leasing an Audi A4
The Audi A4 is an impressive executive car offering several advantages to UK drivers. These benefits include:
Lower Monthly Payments
Leasing an Audi A4 usually results in lower monthly payments than buying the car outright or through financing. This is because the lease payments only cover the vehicle's depreciation during the lease period, not its total value, allowing you to drive a brand-new car at a fraction of the cost.
Latest Features
Audi is renowned for incorporating the most advanced technologies into their vehicles. The Audi A4 is no exception, featuring innovative safety systems, superior connectivity options, and a high-tech digital cockpit. With leasing, you can regularly upgrade to the latest model, experiencing these state-of-the-art features first-hand.
Maintenance Packages
A number of our lease contracts come with maintenance packages included. These can cover routine servicing, tyre replacements, and in some cases, even breakdown cover, helping you avoid unexpected repair costs and ensure your vehicle remains in excellent condition.
No Depreciation Concerns
With leasing, depreciation of the vehicle is not your problem. You won't have to worry about selling it at a good price at the end of your term. Simply return the car when your lease ends, and you can choose your next new ride.
Flexible Contracts
Our leasing agreements are tailored to meet your individual needs. You can decide the length of your lease term, typically between 2 and 4 years, and your annual mileage allowance. This lets you find a contract that best suits your lifestyle and budget.
Experience a New Car More Frequently
Leasing an Audi A4 allows you to enjoy a new car every few years. At the end of your lease, you can upgrade to the latest model, relishing in the most recent features, performance enhancements, and the continuous joy of driving a brand-new car without the worries and costs associated with wear and tear over time.
Inclusive Road Tax
UK road tax is included in the lease, sparing you from extra expense and hassle. As we retain ownership of the car, we handle the road tax for you, ensuring it's paid on time.
Overall Audi A4 Leasing
Leasing an Audi A4 in the UK presents numerous benefits, from lower costs to access to the latest technologies, flexibility, and peace of mind. It's an attractive and pragmatic choice for those who enjoy driving new cars and prefer a straightforward, manageable approach to motoring.
Make the Audi A4 yours today! Explore our enticing leasing offers above, or contact our team to guide you through the options available - hassle-free and without obligations. We're here to assist.